Trade exhibition and technical seminars
Daryl and Steve attended the Viking de Havilland Operators Forum in Victoria, BC. Â  With operators from around the world it was a well attended event with reason to celebrate, the rebirth of the DHC-6 Twin Otter. Â  Exhibitors included Lattitude Technologies, Wipare, Texas Air Services, Universal Avionics to Western Propeller.
The seminars were pertinent to operating de Havilland and Viking aircraft with valuable information including recent updates and technical topics. Â They included Twin Otter main landing gear programs, flight training programs, maintenance and repair options, float plane safety, Â and more.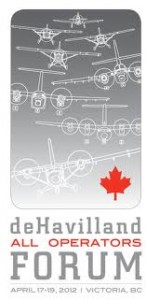 Factory tours were given showing the Twin Otter back in full production. There were suppliers from around the world with products to help maintain and operate your aircraft from Beavers to the Dash 7. Â Of course, Maxcraft Avionics were there to talk about their Glass panel upgrades and Daryl and Steve met many interested operators.
The Gala!
Mid week they put on a gala for the registrants. Â With cocktails and dinner, it was a spectacular show that included "the Timebenders" and "the Fabulous Honeycrooners". Â Dressed in your favorite attire, you were taken back in the time of the de Havilland era of 1930's-1980's.
Steve and Daryl found the 3 day event very worth while and had a great opportunity to network with vendors and operators of Canada's most famous aircraft.
Maxcraft Avionics is a leader in airplane and helicopter avionic system upgrades like the Garmin GTN series, including installation of everything from a basic VHF Radio and simple Garmin portable GPS all the way to TCAS, EFIS, and autopilot systems. We have the largest avionics facility in Canada and we have over 20,000 unique part numbers in our in inventory to repair your aircraft or upgrade your cockpit.